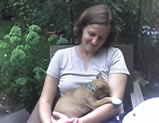 As a dog owner, holidays abroad were always a problem. A previous bad experience left me unhappy about using kennels and I didn't feel I could keep asking friends and family. Since being introduced to Keith I no longer have to worry. Keith comes to my house so Roxy stays in her own familiar home environment. She is walked twice a day, fed, played with and cuddled. He is a true animal lover which is reflected in the level of care he provides. I trust Keith implicitly and would have no hesitation in recommending him to anyone. I have no doubt Roxy would agree with me.
Yvonne
Patch is an old dog who wants a gentle walk at her own pace. She adores Keith and cannot wait for her next walk.
Christine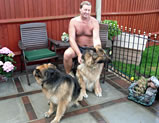 My dogs need a long walk and a firm hand. I can rely on Keith and my dogs love him because he makes such a fuss of them.
Kevan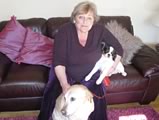 Keith is a kind and very patient person and his love of animals is clear to see. I would recommend him to anyone.
Jenny